Saturday, July 28th, 2007
Strict Standards
: call_user_func_array() expects parameter 1 to be a valid callback, non-static method GA_Filter::the_content() should not be called statically in
/home/billx/bill.bzaar.net/blog/wp-includes/plugin.php
on line
163
Strict Standards
: Non-static method GA_Filter::ga_parse_article_link() should not be called statically in
/home/billx/bill.bzaar.net/blog/wp-content/plugins/google-analytics-for-wordpress/googleanalytics.php
on line
454
Strict Standards
: Non-static method GA_Filter::ga_parse_article_link() should not be called statically in
/home/billx/bill.bzaar.net/blog/wp-content/plugins/google-analytics-for-wordpress/googleanalytics.php
on line
454
Strict Standards
: Non-static method GA_Filter::ga_parse_link() should not be called statically in
/home/billx/bill.bzaar.net/blog/wp-content/plugins/google-analytics-for-wordpress/googleanalytics.php
on line
444
Strict Standards
: Non-static method GA_Filter::ga_get_domain() should not be called statically in
/home/billx/bill.bzaar.net/blog/wp-content/plugins/google-analytics-for-wordpress/googleanalytics.php
on line
424
Deprecated
: Function split() is deprecated in
/home/billx/bill.bzaar.net/blog/wp-content/plugins/google-analytics-for-wordpress/googleanalytics.php
on line
427
Strict Standards
: Non-static method GA_Filter::ga_parse_article_link() should not be called statically in
/home/billx/bill.bzaar.net/blog/wp-content/plugins/google-analytics-for-wordpress/googleanalytics.php
on line
454
Strict Standards
: Non-static method GA_Filter::ga_parse_link() should not be called statically in
/home/billx/bill.bzaar.net/blog/wp-content/plugins/google-analytics-for-wordpress/googleanalytics.php
on line
444
Strict Standards
: Non-static method GA_Filter::ga_get_domain() should not be called statically in
/home/billx/bill.bzaar.net/blog/wp-content/plugins/google-analytics-for-wordpress/googleanalytics.php
on line
424
Deprecated
: Function split() is deprecated in
/home/billx/bill.bzaar.net/blog/wp-content/plugins/google-analytics-for-wordpress/googleanalytics.php
on line
427
Strict Standards
: Non-static method GA_Filter::ga_parse_article_link() should not be called statically in
/home/billx/bill.bzaar.net/blog/wp-content/plugins/google-analytics-for-wordpress/googleanalytics.php
on line
454
Strict Standards
: Non-static method GA_Filter::ga_parse_link() should not be called statically in
/home/billx/bill.bzaar.net/blog/wp-content/plugins/google-analytics-for-wordpress/googleanalytics.php
on line
444
Strict Standards
: Non-static method GA_Filter::ga_get_domain() should not be called statically in
/home/billx/bill.bzaar.net/blog/wp-content/plugins/google-analytics-for-wordpress/googleanalytics.php
on line
424
Deprecated
: Function split() is deprecated in
/home/billx/bill.bzaar.net/blog/wp-content/plugins/google-analytics-for-wordpress/googleanalytics.php
on line
427
Strict Standards
: Non-static method GA_Filter::ga_parse_article_link() should not be called statically in
/home/billx/bill.bzaar.net/blog/wp-content/plugins/google-analytics-for-wordpress/googleanalytics.php
on line
454
Strict Standards
: Non-static method GA_Filter::ga_parse_link() should not be called statically in
/home/billx/bill.bzaar.net/blog/wp-content/plugins/google-analytics-for-wordpress/googleanalytics.php
on line
444
Strict Standards
: Non-static method GA_Filter::ga_get_domain() should not be called statically in
/home/billx/bill.bzaar.net/blog/wp-content/plugins/google-analytics-for-wordpress/googleanalytics.php
on line
424
Deprecated
: Function split() is deprecated in
/home/billx/bill.bzaar.net/blog/wp-content/plugins/google-analytics-for-wordpress/googleanalytics.php
on line
427
Strict Standards
: Non-static method GA_Filter::ga_parse_article_link() should not be called statically in
/home/billx/bill.bzaar.net/blog/wp-content/plugins/google-analytics-for-wordpress/googleanalytics.php
on line
454
Strict Standards
: Non-static method GA_Filter::ga_parse_link() should not be called statically in
/home/billx/bill.bzaar.net/blog/wp-content/plugins/google-analytics-for-wordpress/googleanalytics.php
on line
444
Strict Standards
: Non-static method GA_Filter::ga_get_domain() should not be called statically in
/home/billx/bill.bzaar.net/blog/wp-content/plugins/google-analytics-for-wordpress/googleanalytics.php
on line
424
Deprecated
: Function split() is deprecated in
/home/billx/bill.bzaar.net/blog/wp-content/plugins/google-analytics-for-wordpress/googleanalytics.php
on line
427
Strict Standards
: Non-static method GA_Filter::ga_parse_article_link() should not be called statically in
/home/billx/bill.bzaar.net/blog/wp-content/plugins/google-analytics-for-wordpress/googleanalytics.php
on line
454
Strict Standards
: Non-static method GA_Filter::ga_parse_link() should not be called statically in
/home/billx/bill.bzaar.net/blog/wp-content/plugins/google-analytics-for-wordpress/googleanalytics.php
on line
444
Strict Standards
: Non-static method GA_Filter::ga_get_domain() should not be called statically in
/home/billx/bill.bzaar.net/blog/wp-content/plugins/google-analytics-for-wordpress/googleanalytics.php
on line
424
Deprecated
: Function split() is deprecated in
/home/billx/bill.bzaar.net/blog/wp-content/plugins/google-analytics-for-wordpress/googleanalytics.php
on line
427
Strict Standards
: Non-static method GA_Filter::ga_parse_article_link() should not be called statically in
/home/billx/bill.bzaar.net/blog/wp-content/plugins/google-analytics-for-wordpress/googleanalytics.php
on line
454
Strict Standards
: Non-static method GA_Filter::ga_parse_link() should not be called statically in
/home/billx/bill.bzaar.net/blog/wp-content/plugins/google-analytics-for-wordpress/googleanalytics.php
on line
444
Strict Standards
: Non-static method GA_Filter::ga_get_domain() should not be called statically in
/home/billx/bill.bzaar.net/blog/wp-content/plugins/google-analytics-for-wordpress/googleanalytics.php
on line
424
Deprecated
: Function split() is deprecated in
/home/billx/bill.bzaar.net/blog/wp-content/plugins/google-analytics-for-wordpress/googleanalytics.php
on line
427
Strict Standards
: Non-static method GA_Filter::ga_parse_article_link() should not be called statically in
/home/billx/bill.bzaar.net/blog/wp-content/plugins/google-analytics-for-wordpress/googleanalytics.php
on line
454
Strict Standards
: Non-static method GA_Filter::ga_parse_link() should not be called statically in
/home/billx/bill.bzaar.net/blog/wp-content/plugins/google-analytics-for-wordpress/googleanalytics.php
on line
444
Strict Standards
: Non-static method GA_Filter::ga_get_domain() should not be called statically in
/home/billx/bill.bzaar.net/blog/wp-content/plugins/google-analytics-for-wordpress/googleanalytics.php
on line
424
Deprecated
: Function split() is deprecated in
/home/billx/bill.bzaar.net/blog/wp-content/plugins/google-analytics-for-wordpress/googleanalytics.php
on line
427
Strict Standards
: Non-static method GA_Filter::ga_parse_article_link() should not be called statically in
/home/billx/bill.bzaar.net/blog/wp-content/plugins/google-analytics-for-wordpress/googleanalytics.php
on line
454
Strict Standards
: Non-static method GA_Filter::ga_parse_link() should not be called statically in
/home/billx/bill.bzaar.net/blog/wp-content/plugins/google-analytics-for-wordpress/googleanalytics.php
on line
444
Strict Standards
: Non-static method GA_Filter::ga_get_domain() should not be called statically in
/home/billx/bill.bzaar.net/blog/wp-content/plugins/google-analytics-for-wordpress/googleanalytics.php
on line
424
Deprecated
: Function split() is deprecated in
/home/billx/bill.bzaar.net/blog/wp-content/plugins/google-analytics-for-wordpress/googleanalytics.php
on line
427
Strict Standards
: Non-static method GA_Filter::ga_parse_article_link() should not be called statically in
/home/billx/bill.bzaar.net/blog/wp-content/plugins/google-analytics-for-wordpress/googleanalytics.php
on line
454
Strict Standards
: Non-static method GA_Filter::ga_parse_link() should not be called statically in
/home/billx/bill.bzaar.net/blog/wp-content/plugins/google-analytics-for-wordpress/googleanalytics.php
on line
444
Strict Standards
: Non-static method GA_Filter::ga_get_domain() should not be called statically in
/home/billx/bill.bzaar.net/blog/wp-content/plugins/google-analytics-for-wordpress/googleanalytics.php
on line
424
Deprecated
: Function split() is deprecated in
/home/billx/bill.bzaar.net/blog/wp-content/plugins/google-analytics-for-wordpress/googleanalytics.php
on line
427
Strict Standards
: Non-static method GA_Filter::ga_parse_article_link() should not be called statically in
/home/billx/bill.bzaar.net/blog/wp-content/plugins/google-analytics-for-wordpress/googleanalytics.php
on line
454
Strict Standards
: Non-static method GA_Filter::ga_parse_link() should not be called statically in
/home/billx/bill.bzaar.net/blog/wp-content/plugins/google-analytics-for-wordpress/googleanalytics.php
on line
444
Strict Standards
: Non-static method GA_Filter::ga_get_domain() should not be called statically in
/home/billx/bill.bzaar.net/blog/wp-content/plugins/google-analytics-for-wordpress/googleanalytics.php
on line
424
Deprecated
: Function split() is deprecated in
/home/billx/bill.bzaar.net/blog/wp-content/plugins/google-analytics-for-wordpress/googleanalytics.php
on line
427
Strict Standards
: Non-static method GA_Filter::ga_parse_article_link() should not be called statically in
/home/billx/bill.bzaar.net/blog/wp-content/plugins/google-analytics-for-wordpress/googleanalytics.php
on line
454
Strict Standards
: Non-static method GA_Filter::ga_parse_link() should not be called statically in
/home/billx/bill.bzaar.net/blog/wp-content/plugins/google-analytics-for-wordpress/googleanalytics.php
on line
444
Strict Standards
: Non-static method GA_Filter::ga_get_domain() should not be called statically in
/home/billx/bill.bzaar.net/blog/wp-content/plugins/google-analytics-for-wordpress/googleanalytics.php
on line
424
Deprecated
: Function split() is deprecated in
/home/billx/bill.bzaar.net/blog/wp-content/plugins/google-analytics-for-wordpress/googleanalytics.php
on line
427
Strict Standards
: Non-static method GA_Filter::ga_parse_article_link() should not be called statically in
/home/billx/bill.bzaar.net/blog/wp-content/plugins/google-analytics-for-wordpress/googleanalytics.php
on line
454
Strict Standards
: Non-static method GA_Filter::ga_parse_link() should not be called statically in
/home/billx/bill.bzaar.net/blog/wp-content/plugins/google-analytics-for-wordpress/googleanalytics.php
on line
444
Strict Standards
: Non-static method GA_Filter::ga_get_domain() should not be called statically in
/home/billx/bill.bzaar.net/blog/wp-content/plugins/google-analytics-for-wordpress/googleanalytics.php
on line
424
Deprecated
: Function split() is deprecated in
/home/billx/bill.bzaar.net/blog/wp-content/plugins/google-analytics-for-wordpress/googleanalytics.php
on line
427
Strict Standards
: Non-static method GA_Filter::ga_parse_article_link() should not be called statically in
/home/billx/bill.bzaar.net/blog/wp-content/plugins/google-analytics-for-wordpress/googleanalytics.php
on line
454
Strict Standards
: Non-static method GA_Filter::ga_parse_link() should not be called statically in
/home/billx/bill.bzaar.net/blog/wp-content/plugins/google-analytics-for-wordpress/googleanalytics.php
on line
444
Strict Standards
: Non-static method GA_Filter::ga_get_domain() should not be called statically in
/home/billx/bill.bzaar.net/blog/wp-content/plugins/google-analytics-for-wordpress/googleanalytics.php
on line
424
Deprecated
: Function split() is deprecated in
/home/billx/bill.bzaar.net/blog/wp-content/plugins/google-analytics-for-wordpress/googleanalytics.php
on line
427
Strict Standards
: Non-static method GA_Filter::ga_parse_article_link() should not be called statically in
/home/billx/bill.bzaar.net/blog/wp-content/plugins/google-analytics-for-wordpress/googleanalytics.php
on line
454
Strict Standards
: Non-static method GA_Filter::ga_parse_link() should not be called statically in
/home/billx/bill.bzaar.net/blog/wp-content/plugins/google-analytics-for-wordpress/googleanalytics.php
on line
444
Strict Standards
: Non-static method GA_Filter::ga_get_domain() should not be called statically in
/home/billx/bill.bzaar.net/blog/wp-content/plugins/google-analytics-for-wordpress/googleanalytics.php
on line
424
Deprecated
: Function split() is deprecated in
/home/billx/bill.bzaar.net/blog/wp-content/plugins/google-analytics-for-wordpress/googleanalytics.php
on line
427
Eccoci qui all'ormai consueto appuntamento settimanale con la Week in Review, l'elenco delle recensioni dei film e delle serie TV viste nel corso della settimana appena passata. Purtroppo, improvvisi impegni di traduzione non mi hanno dato la possibilità di parlare, a metà settimana, come promesso, del concerto di Elio e le Storie Tese che sono andato a vedere una decina di giorni fa, ma cercherò di farlo non appena questo lavoro dai tempi strettissimi mi darà un po' di tregua. Avrei voluto parlare anche della prima infornata di pilot della nuova stagione televisiva che ho avuto modo di vedere (sorprendentemente, tutti abbastanza buoni/discreti, ma non eccezionali come alcuni di quelli visti negli ultimi tre anni), della continua serie di vittorie a Dr. Why o dei curriculum inviati, ma mai arrivati, oppure giunti a destinazione ma cestinati all'istante, ma ne parlerò prossimamente. Per ora, non mi rimane altro che augurarvi una buona lettura.
The Lookout (2007) - Voto/Rating: 7/10
Writer Scott Frank's directing debut is a very interesting noir, one of this year's best movies, at least until now. The Lookout is the story of a young guy, who gets mentally impaired because of a car accident, being so forced to change completely his life. He starts working alongside a blind man as cleaner in a bank, but he's also befriended by a mysterious man he meets in a bar, who says they've been classmates, but also asks our guy to join him in robbing the bank where he's actually working. Twists and turns are the central element of the movie, extremely well acted by Joseph Gordon Levitt and Jeff Daniels, but also by their castmates Matthew Goode and Isla Fisher (very effective, even in roles who are not comedic). Director shows, unlike several other writers turned film-makers, he's been learning a lot from all the directors he's worked with. The Lookout is a must see, especially if you're a thriller buff.
TMNT (2007) - Voto/Rating: 6/10
Another symbol of the 80's (even if they've acquired major success at the beginning of the 90's) came back to theatres this years. They are the Teenage Mutant Ninja Turtles, now full-CG in a low budget animated movie co-produced by Warner Bros. and Weinstein Company. There's no Shredder anymore, but there are other villains who will force the turtles, mentored again by their great master Splinter and helped by their old friends April and Casey Jones, now living together, to rejoin and fight the ones who want to conquer the world. A good voice acting (the turtles are voiced by their original voices, while other characters are played by Chris Evans, Sarah Michelle Gellar, Ian McKellen, Zhang ZiYi and Laurence Fishburne), an interesting screenplay and a few spectacular scenes are the highlights of this production, not so bright when it comes to animation or direction. However, the movie is quite good, and I'm sure both fans (I'm talking about people who were 10/15 years old at the beginning of the 90's) and non-fans will like it.

Wild Hogs (2007) - Voto/Rating: 6/10
Comedies like Wild Hogs are usually totally spoiled in trailers, where their best, and very often, funny bits are shown. Fortunately, Walt Becker's movie has some more gags and laughing moments, at least in its first 80 minutes, because it ends with the classic unbearable sugar-coated ending. Wild Hogs is the story of four middle-class friends, bored of their lives, who decide to embark into a motorcycle road trip. This will result in very funny situations, a little bit of romance, and the usual rants about friendship and so on. Becker has been able to make the most from his four leads: John Travolta, William H. Macy, Tim Allen and Martin Lawrence. Travolta and Macy really stand out, with Allen and Lawrence doing their usual characters, outperformed by Ray Liotta and John C. McGinley, both hilarious in their roles (Marisa Tomei is instead William Macy's love interest). Good movie. It has a few flaws, but it's still really enjoyable.
Live Free or Die Hard (2007) - Voto/Rating: 6/10
Sequels realized several years after the last episode are usually very bad ideas. I had very low expectations for Live Free or Die Hard (a.k.a. Die Hard 4.0 here in Europe), but I'm happy to say the movie is not the complete disaster I predicted. Invincible and invulnerable policeman hero John McClane must now fight, with a young hacker, against cyberterrorists who threatened to send back United States and the whole world to stone age, causing havoc in every part of the planet. Justin Long is the unlikely sidekick of Bruce Willis in this adventure, and stars alongside Timothy Olyphant as the villain, the gorgeous Maggie Q, Mary Elizabeth Winstead and even Italian soap opera actor Edoardo Costa (he's one of the baddies with more screen time, and he's also the last baddie dying). Len Wiseman's direction is absolutely not on par with John McTiernan's (unlike what Bruce Willis says, I still think that Michael Bay would have pulled out an action masterpiece), with very few inspired and inventive scenes. The screenplay, as it was very easy to predict, almost doesn't exist, but that's not an issue, because the movie is really fun. Maybe it's just a little over the top in the last half hour (I don't want to spoil anything, you'll see what I'm referring to when you're gonna watch it), but still extremely fun. A good summer movie, that makes me think another sequel wouldn't be a bad idea. Just do it without Len Wiseman, please.
Surf's Up (2007) - Voto/Rating: 7/10
CG-animated mockumentary about surfing penguins, Surf's Up has been a real surprise for me. Technically astounding, with a great voice acting (Shia LaBoeuf stars alongside Jeff Bridges, James Woods, Zooey Deschanel and many others), extremely funny characters (the surfing chicken voiced by Jon Heder is exhilarating) and scenes, lots of humour and a perfect soundtrack are this movie's positive elements. It's a pity it hasn't been marketed properly by Sony, because it could have been, in my opinion, a great cash cow for the studio. I'm absolutely buying it on DVD or in an HD format as soon as it's released, because it's the only animated movie released in 2007 who fully convinced me (I'm sure I'll really like Ratatouille too, but I haven't seen it yet).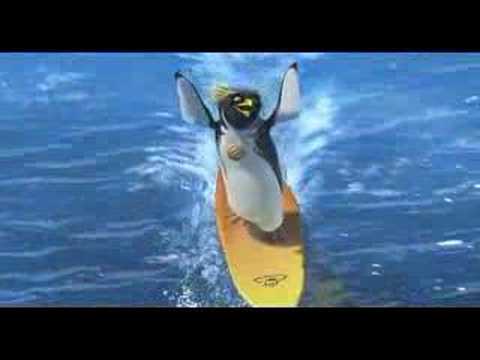 28 Weeks Later (2007) - Voto/Rating: 7/10
28 Days Later follow-up is a very interesting movie, whose story takes off where the previous movie ended, with people prepared to come back to their homes, in a London not so deserted as we had seen a few years ago. But another outbreak is ready to start again, with even worse consequences than the first one. I didn't have many expectations for this sequel when it was announced, but after seeing the first trailer I started to change idea. Juan Carlos Fresnadillo is a very talented director and has been a really good choice to helm this movie. The way he decided to shoot it, with lots of flashy cuts, handheld shots, several dark scenes, really conveys the sense of terror and fear that flicks like this one should have. Even focusing the story on the two children has been an extremely good choice, especially considering the way the story had ended. Great movie, I enjoyed it a lot. It doesn't deserve a rating of 8, because it has a few flaws in the script, but it's a great popcorn movie, you should absolutely see in theatres as soon as it's released.
Les Anges Exterminateurs (2006) - Voto/Rating: 5/10
French erotic dramas are very odd movies. Some of them, like Catherine Breillat's A Ma Soeur, reviewed here a few weeks ago, get to a certain point, even if it's quite hard to decode. Some others, like Les Anges Exterminateurs, seem really pointless, because you're not able to understand where the director wants to go. This is the story of a porn director who's searching for girls for his next movie. In his auditions, young women strip and start masturbating themselves while confessing their most strange desires and fantasies. Lesbian sex in two, but also in a threesome, are the other things the porn director likes to see in front of his camera. After watching the movie, I started wondering what was the point of everything I've been seen in the previous 90 minutes. I haven't been able to give myself an answer. Sex scenes are also the only highlight of Les Anges Exterminateurs. They're extremely erotic and graphic, but also shot in a very tasteful way, with an incredibly pounding soundtrack that makes them even more erotic, letting me say that they're the best sex scenes I've seen in quite a while (I'm not saying this because there are only women, believe me). Unfortunately, the rest of the movie is utter crap.
(Cliccate sul link qua sotto per visualizzare il post completo)